EKHA Monthly Newsletter
28 June 2019
June 2019
EKHA Activities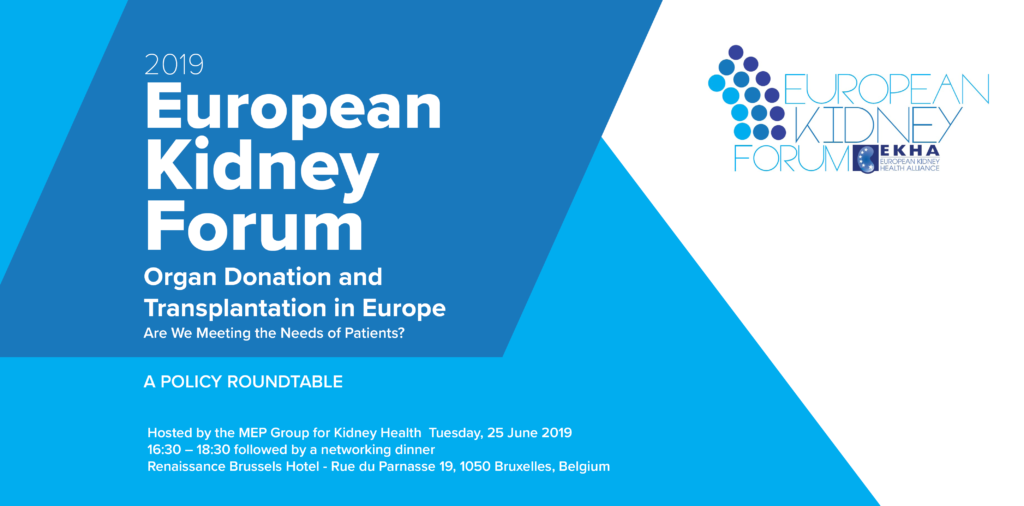 EUROPEAN KIDNEY FORUM 2019
The 6th Annual European Kidney Forum took place on Tuesday, 25 June in Brussels.
Gathering key stakeholders including policymakers from the European Commission, Member State representatives from competent authorities involved in transplantation, patients and healthcare professionals, this year's Forum attracted 56 delegates who engaged in a fruitful discussion on the theme of Organ Donation and Transplantation in Europe, with a focus on 'Are we meeting the needs of patients?'
Read more here

EKHA Management Committee and Associate Members Meetings
The EKHA Management Committee convened for its second meeting of the year on 25th June. This was followed by a welcome meeting for Associate Members. Raymond Vanholder explained the opportunities and advantages of EKHA's transition to a legal entity and then gave the floor to national societies for presentations and discussion around efforts to promote organ donation and transplantation in their respective countries.
Find all presentations of the Associate Members Meeting here, including the latest European kidney transplantation figures presented by Mark Murphy.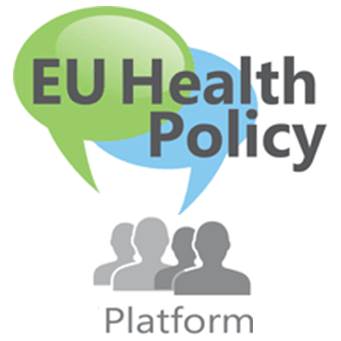 Thematic Network update
With new Partners joining, the Thematic Network on Organ Donation and Transplantation has been expanding, thereby bringing together a variety of stakeholders in the field to advance good practices and address the challenges faced by the Member States. The feedback provided by the Thematic Network Partners is currently being reviewed and incorporated into the Joint Statement draft, to be shared with the Thematic Network Partners for their final comments and endorsement prior to the document's submission to the Commission on 3 October 2019.
EKHA Insights: EUROPEAN ELECTIONS 2019
In connection with the first plenary session of the 9th European Parliament taking place on 2-4 July, here are some key insights into the new Parliament and the MEP Group for Kidney Health, which retains seven of its members including Co-Chair MEP Hilde Vautmans.
Read more here
EU Policy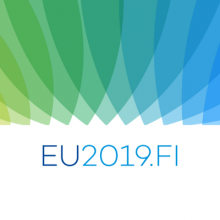 Finnish Presidency – Priorities and Programme
Finland has announced the priorities and programme of its upcoming presidency of the Council of the European Union between 1 July 2019 and 31 December 2019. The programme places emphasis on a sustainable and socially inclusive Europe that promotes the well-being and prosperity of its citizens.
Finland will be the first presidency to integrate the new priorities of the Strategic Agenda 2019–2024 into the Council's work.
Read more here
Upcoming Activities
| | |
| --- | --- |
| Activity/Event | Date |
| 16th International Congress of the Intestinal Rehabilitation and Transplant Association (CIRTA 2019), Paris | 3-6 July, 2019 |
| Horizon 2020 Health Partnering Day 2019, Brussels | 4 July, 2019 |
| Finnish Presidency of the European Council High-Level Forum on the Silver Economy, Helsinki | 9-10 July, 2019 |
| EU Patient Access Partnership (PACT) multi-stakeholder conference—"The future of health: Advancing the UN 2030 Sustainable Development Agenda in Europe", Brussels | 11-12 July, 2019 |
| EKHA Thematic Network on Organ Donation and Transplantation: Endorsement period of Joint Statement | September – November, 2019 |
| 46th European Society for Artificial Organs (ESAO) Congress, Germany | 3-7 September, 2019 |
| | 07-11 September, 2019 |
| EKHA Thematic Network on Organ Donation and Transplantation: Webinar 2 | 10 September, 2019 |
| First European Cell Therapy and Organ Regeneration Section (ECTORS) Meeting, Copenhagen | 14-15 September, 2019 |
| 48th EDTNA/ERCA International Conference Prague, Czech Republic | 14-17 September, 2019 |
| ESOT Congress 2019, Copenhagen | 15-18 September, 2019 |
| | 16-17 September, 2019 |
| 69th session of the WHO Regional Committee for Europe and the election of new Regional Director, Copenhagen | 16-19 September, 2019 |
| The Finnish EU Presidency conference on the Economy of Wellbeing, Brussels | 18-19 September, 2019 |
| 2nd Annual Meeting of the International Academy for Clinical Hematology (IACH), Paris | 19-21 September, 2019 |
| 3rd Nephro Update Europe 2019, Prague | 20-21 September, 2019 |
| 16th Congress of the Cell Transplant and Regenerative Medicine Society (CTRMS 2019), Greece | 21-25 September, 2019 |
| European Research and Innovation Days, Brussels | 24 -26 September, 2019 |
| EU Health Programme High Level Conference (DG Sante), Brussels | 30 September, 2019 |
| European Health Forum Gastein, Austria | 2-4 October, 2019 |
| EKHA Thematic Network on Organ Donation and Transplantation: Submission of final version of Joint Statement | 3 October, 2019 |
| International Society of Nephrology (ISN) Frontiers Meeting, Sweden | 3-6 October, 2019 |
| Eurotransplant Annual Meeting 2019, Netherlands | 10-11 October, 2019 |
| European Day for Organ Donation and Transplantation | 12 October, 2019 |
| EKHA Thematic Network on Organ Donation and Transplantation: Presentation of the Joint Statement at the EU Health Policy Platform Meeting | 17 October, 2019 |
| 18th Congress of the International Pediatric Nephrology Association, Venice | 17-21 October, 2019 |
| 4th Business at OECD Forum on Health, Paris | 30 October, 2019 |
| | 23 November, 2019 |
| Closure of the 2019 Thematic Network Cycle, transformation into stakeholder network and lessons learned webinar with SANTE Units and the HPP team. | December (TBC) |