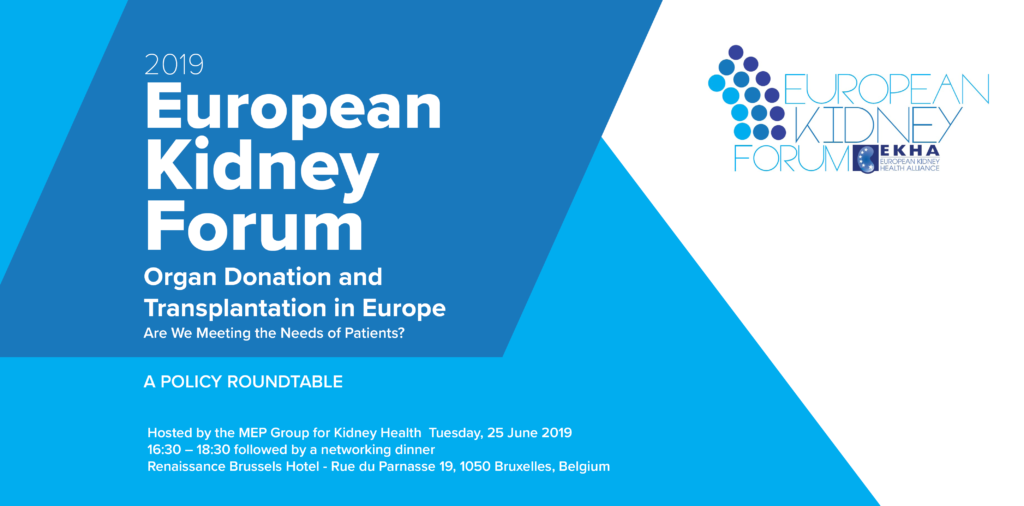 European Kidney Forum 2019 "Organ Donation and Transplantation in Europe – Are We Meeting the Needs of Patients?"
26 June 2019
On 25 June 2019, EKHA held its 6th Annual Kidney Forum in Brussels. As previous editions, the event gathered policymakers from the European Commission, national competent authorities, patient associations, medical professionals, and representatives from the private sector.
The event was opened with a video address by Mrs Hilde Vautmans, Chair of the MEP Group for Kidney Health, followed by a moving speech by Robert van der Wolk, a combined kidney pancreas transplantation patient.
A roundtable discussion ensued, moderated by Professor Wim van Biesen, featuring Stefaan Van der Spiegel from DG SANTE, Dr Elisabeth Coll from the Spanish National Transplantation Organization, Professor Uwe Heemann from Munich Technical University, European Society for Organ Transplantation (ESOT) Secretary Dr Gabriel C. Oniscu, Dr Stela Živčić Ćosić from University of Rijeka in Croatia, EKHA Chairman Professor Raymond Vanholder and transplant patient Robert van der Wolk. Topics included the role of registries and multi-national coordination structures, the mandate of the European Commission, patient and public empowerment, maximising the role of transplant coordinators, and improving living donation with Spain, Germany and Croatia presented as case studies.
Audience participation made for a lively debate which culminated in voting on priority actions to improve organ donation and transplantation in Europe. In the live poll, 94% of the Forum participants declared a need to launch a new Action Plan on Organ Donation and Transplantation following the last Action Plan of 2009-2015. Furthermore, the audience considered the five most important elements in increasing organ availability to be:
Increasing public awareness and trust,
Each member state having a dedicated strategy/action plan for organ donation and transplantation,
Appointing and maximising the role of transplant donor coordinators,
Promoting quality improvement programmes in hospitals, hence optimising deceased organ donation,
Training to improve knowledge and communications skills of healthcare professionals.
Key take-away messages and insights from the Forum will inform the Joint Statement of the EU Thematic Network on Organ Donation and Transplantation, a political declaration that aims to mobilise political support at multiple levels.
The summary report of the event is available here.
Access the event's presentations and view the photo gallery.
Watch MEP Hilde Vautmans' video message: