26 April, 16:00-17:00 (followed by a cocktail reception and exhibition), in the European Parliament, Brussels, room SPINELLI 8F388.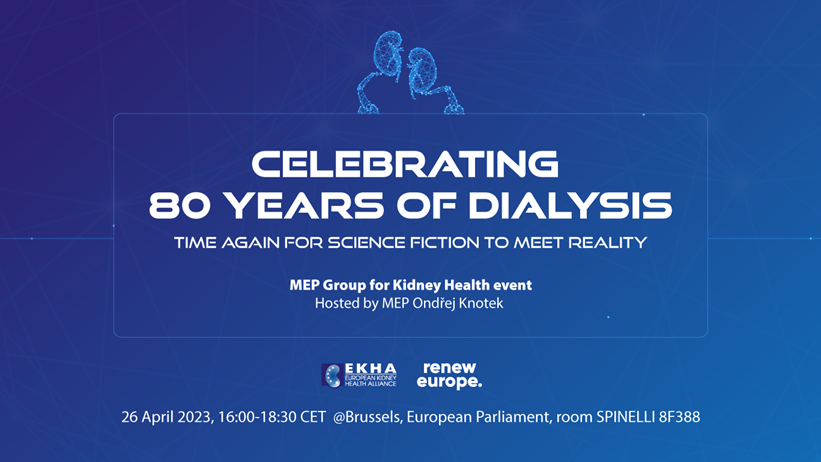 This event, hosted by MEP Ondřej Knotek, will commemorate the 80th anniversary of the invention of dialysis. During the event, a short documentary on the invention of the first dialysis machine (1943) will be screened. It will highlight how this ground-breaking innovation allowed to save millions of lives, whilst emphasizing the urgency of new medical breakthroughs in kidney care. Despite the increasing burden of chronic kidney disease, the basic concept of dialysis has barely changed since the original prototype developed in 1943. Current dialysis treatments remain burdensome and difficult to use for patients, costly for healthcare systems and polluting for the environment. There is a pressing need to stimulate innovation in this field.
Confirmed speakers include:
MEP Ondřej Knotek, Co-chair, MEP Group for Kidney Health
MEP Martin Buchmann, member of the MEP Group for Kidney Health and dialysis patient (video)
Prof. Raymond Vanholder, President of the European Kidney Health Alliance (EKHA)
Prof. Liselotte Højgaard, member of the Scientific Council of the European Research Council (ERC)
Mr. Daniel Gallego, President of the European Kidney Patients' Federation (EKPF)
Mr. Tom Oostrom, Managing Director of the Dutch Kidney Foundation (Nierstichting)
You can find the full agenda here.
You can watch the full video here: The inspiring story of Willem Kolff, inventor of dialysis! – YouTube