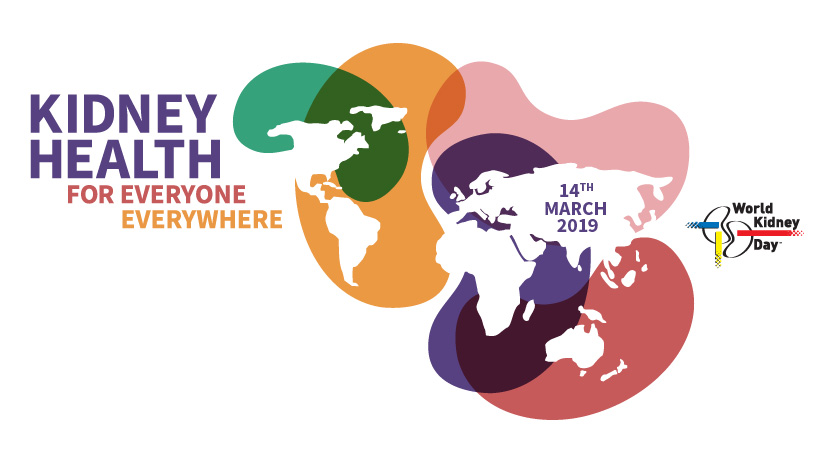 World Kidney Day 2019
14 March 2019
In its 14th year, World Kidney Day 2019: Kidney Health for Everyone Everywhere, focuses on the disparities and inequities that exist in kidney health.
This year's global campaign aims to highlight the burden of kidney diseases and the need for advances in prevention and management. Kidney Health for Everyone Everywhere calls for universal health coverage (UHC) for prevention and early treatment of kidney disease.
In alignment with the UN SDGs, the work of WHO Europe and other partners working to advance UHC policy at EU level, EKHA supports this call.
Primary prevention measures and early detection are of critical importance in managing the progression of Chronic Kidney Disease (CKD). As with other comorbid chronic conditions, many risk factors and barriers to access are linked to social and environmental determinants like poverty, gender, education, employment, geography, pollution etc., which further disadvantages society's most vulnerable. In Europe when care is sought, inequalities persist for patients in the availability of Renal Replacement Therapies (RRT). And while transplantation is widely acknowledged as the most cost-effective treatment for CKD, patients in some member states have a higher chance of being a donor recipient, owing to national efficacy in the coordination of available organs for transplantation.
EKHA is committed to advancing EU policies that support, healthy lifestyles, screening and early diagnosis of high risk individuals, equitable access to cost effective treatment that can prevent or delay disease progression, regardless of geography. Our work this year is especially focused on advancing the issue of Organ Donation and Transplantation in the EU, through DG SANTE's EU Health Policy Platform Thematic Network cycle.
We hope you will join us in supporting the call for Kidney Health for Everyone Everywhere by advocating for concrete measures at EU level that improve kidney care.
For more information on World Kidney Day 2019, visit: https://www.worldkidneyday.org/2019-campaign/2019-wkd-theme/
Or join the Twitter discussion online: @EKHA_EU #WorldKidneyDay