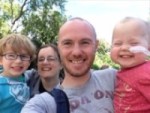 World first kidney transplant using 3D printing performed in Northern Ireland
20 February 2016
3D printing has been used for the first time in the world to support kidney transplant surgery between an adult donor and a child recipient, Lucy, a three-year-old girl from Northern Ireland.
Lucy suffered heart failure and developed supraventricular tachycardia – a condition that makes the heart beating irregularly faster than normal. As her kidney were deprived from oxygen, she would have had to undergo dialysis treatment her whole lifetime. In November 2015, she received transplantation at Great Ormond Street Hospital, with a kidney donated by her father.
3D printers from St Thomas and Guy's hospitals were used to produce models of the donor kidney and Lucy's abdomen to enable the surgeons assessing the feasibility of the transplant, rehearse and plan the highly complex operation. 3D printers replicate the body's part and density through a model of liquid plastic, molded under ultraviolet light.
The operation was a success for Lucy, and his father has also fully recovered.