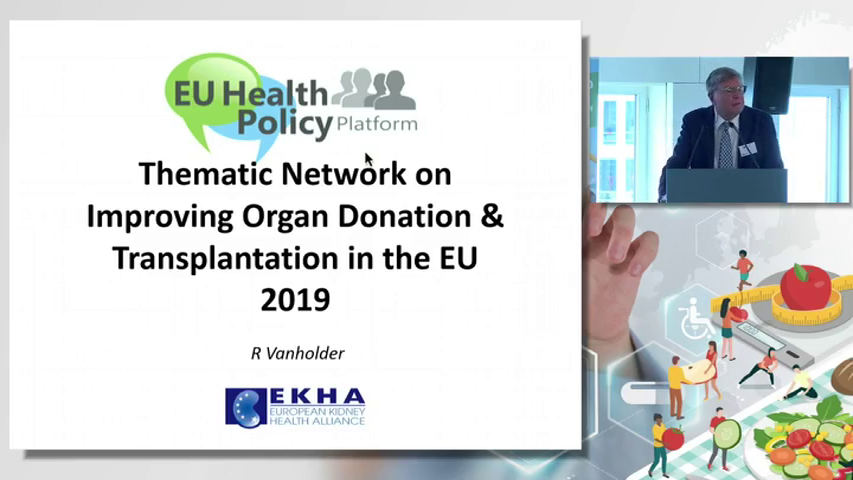 Watch the presentation of the Joint Statement on Organ Donation and Transplantation at the EU Health Policy Platform Annual Meeting
21 October 2019
EKHA Chairman Professor Raymond Vanholder presented the Joint Statement of the Thematic Network on Improving Organ Donation and Transplantation on 17 October 2019 at the EU Health Policy Platform Annual Meeting in Brussels.
The Joint Statement entitled A Shared Vision for Improving Organ Donation and Transplantation in the EU is the main output of the EKHA-led 2019 Thematic Network, developed in conjunction with National Competent Authorities, transplant organisations, medical professionals and patient associations, and endorsed by co-signing organisations and Members of the European Parliament (MEPs). 
The presentation was very well received. DG SANTE Director of Public Health John F. Ryan thanked Prof. Vanholder for making extensive use of data and drawing on issues of inequalities in the calls and recommendations of the Joint Statement. Ingrida Pucinskaite-Kubik representing the Substances of Human Origin (SoHO) unit of DG SANTE also congratuled Prof. Vanholder and pointed out the importance of the comprehensible calls and clear actions identified in the Joint Statement for the Commission, Member States and stakeholders. She further highlighted the synergies of the document with the Commission's priorities in the field. 
Prof. Vanholder thanked all stakeholders who have contributed to the development of the Joint Statement text, two of which were present in the audience: Dr. Beatriz Domínguez-Gil from Spain and Dr. Mirela Bušić from Croatia, the directors of the National Competent Authorities for Organ Donation and Transplantation of the two leading countries in the field. Dr. Domínguez-Gil stated that the Joint Statement is a great opportunity to guide future policy efforts as well as stakeholder action.
As the 2019 Thematic Network Cycle comes to an end, the Thematic Network on Organ Donation and Transplantation will continue to exist as a stakeholder network in which organisations will still be able to request to take part by logging in to the Health Policy Platform.
You can watch the full presentation of the Joint Statement here:
Download the Joint Statement of the Thematic Network on Improving Organ Donation and Transplantation here.
To endorse the Joint Statement, please send your organisation's logo* to ekhaEU@interelgroup.com by the extended deadline of 16 December 2019.
*Logo requirements: a vector format file (which can be a .eps, .ai or .svg file), or a .jpg or .png, with a minimum size of 250x250px and 150 dpi.