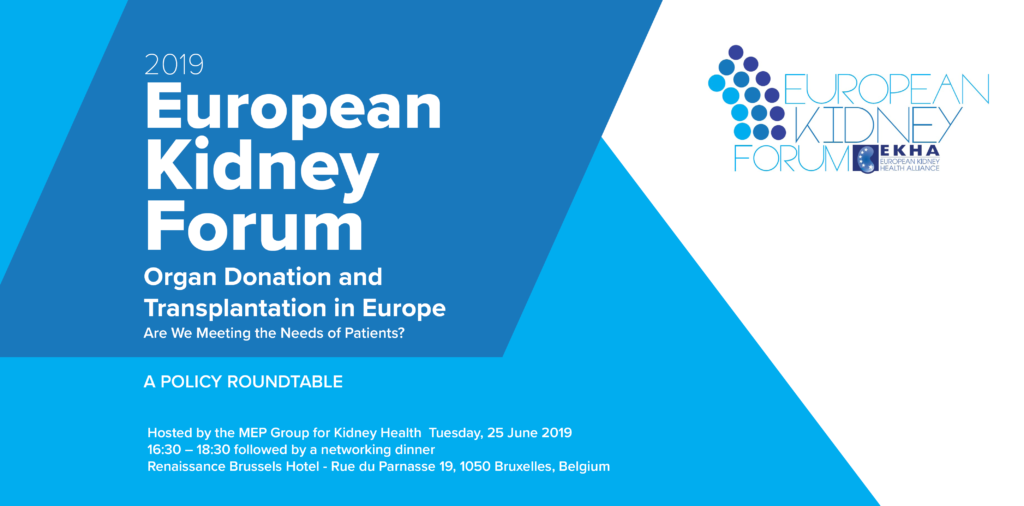 Registration is now open for the 6th Annual European Kidney Forum
20 May 2019
Preparations for the 6th Annual European Kidney Forum: Organ Donation and Transplantation in the EU are well underway.
In addition to the attendance of MEP Hilda Vautmans, EKHA is excited to announce the following speakers have been secured to participate in the Policy Roundtable discussion:
Stefaan Van der Spiegel from DG SANTE on the role of the European Commission in fostering improved Organ Donation and Transplantation in Europe
Elisabeth Coll, Medical Director, Spanish National Transplant Organization on the Spanish success story in achieving high transplantation rates
Prof. Dr. Uwe Heemann, German Chief of Nephrology, Klinikum rechts der Isar of the Technical University of Munich on the challenges of organ availability, and improving efficiency and accessibility of transplant systems
Dr. Stela Živčić Ćosić, a Croatian nephrologist involved in kidney transplantation on models of international collaboration to address challenges in organ donation and transplantation
Gabriel C. Oniscu, ESOT Secretary, sharing the transplant professionals' perspective
Robert van der Wolk, sharing the patient's perspective and
EKHA Chairman, Prof. Raymond Vanholder on care continuity for long-term transplant patients
Moderated by Prof Wim Van Biesen, Chief of the Department of Nephrology, Ghent University Hospital, the Policy Roundtable will feature interactive and engaging dialogue about the challenges and opportunities for organ donation and transplantation across EU. The ideas and insights captured from the panel discussion will inform the EU Thematic Network Joint Statement on Organ Donation and Transplantation. Interested stakeholders can login or register here to access the Joint Statement and join our Network.

EHKA has also secured funding for the Forum, which would not have been possible without the generous and unrestricted support of Vifor Pharma, CSL Behring, B Braun, Baxter, Astellas and Amgen.
Please follow this link to register to the event.
To access the full programme details, check out our upcoming events page of our website here.
---