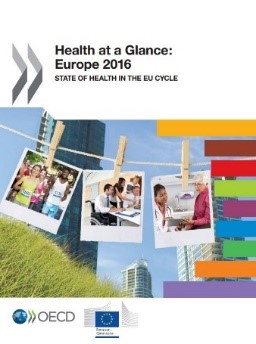 OECD and European Commission publish "health at a glance report 2016", highlighting the need to address chronic diseases in the EU
12 December 2016
The European Commission published on the 23rd of November the joint European Commission/OECD 2016 "Health at a glance" report aimed at providing an overview of the health status in Europe and public health policies, the report indicates that policies that aim at promoting good health and preventing diseases as well as more effective healthcare could save lives and billions of euros in the European Union. The report highlights that while "life expectancy now exceeds 80 years in most EU countries", a record-high level, the extra years do not always correspond to healthy life years, and points at the related costs of some €115 billion for EU healthcare systems. It estimates that the premature deaths of 550,000 working age people across EU countries from chronic diseases, including heart attacks, strokes, diabetes and cancer, cost EU economies EUR 115 billion or 0.8% of GDP annually.
It highlights that "further investment in prevention, along with measures making it easier for people with disabilities to work, would bring significant economic and social benefits in EU countries. It would also help countries achieve the ambitious targets in the United Nations Sustainable Development Goal 3: Good Health and Well-Being".
The report also shows the great discrepancies in access to healthcare amongst regions and countries, calling on Member States to focus policies on reducing financial barriers to healthcare, strengthening access to primary care, and reducing excessive waiting times for healthcare services.
Speaking upon the release of the report, EU Health Commissioner Andriukaitis stressed that the report "provides useful information for Member States to shape their actions on health across all policies", noting that it outlines the need to continue efforts to ensure increased accessibility of healthcare in Europe. A related infographic is available here and a summary video here.