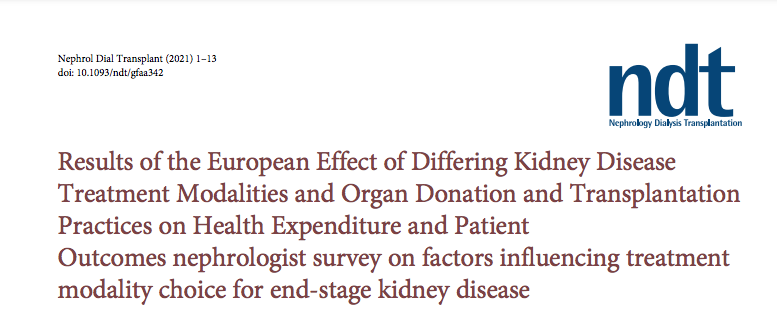 New EKHA publication: 'Which factors are influencing nephrologists' choices about treatment modalities for ESKD patients?'
25 March 2021
The European Kidney Health Alliance (EKHA) recently contributed to a survey analysing the factors shaping nephrologists' choices about treatment modalities for patients with end-stage kidney disease (ESKD) across Europe.
According to the survey, most European nephrologists are in favour of increasing the uptake of kidney transplantation, home dialysis and comprehensive conservative management (CCM), but not all. Different factors influence modality choices of professionals from low-, middle, and high-income countries, such as the access to home dialysis, kidney transplantation and CCM. Lack of access to different treatment modalities have significant impacts on the survival and quality of life of patients, as well as on healthcare expenditures.
The results indicate that factors influencing treatment modality choice differ according to GDP tertiles, healthcare organisation and legislation. Therefore it may be preferrable to implement different policies for clusters of countries, as one pan-European policy to improve access to treatments for ESKD patients may be ineffective. It is essential to educate healthcare professionals, patients and policy-makers to tackle barriers in the provision of home dialysis, kidney transplantation and CCM.
Read the full paper here.