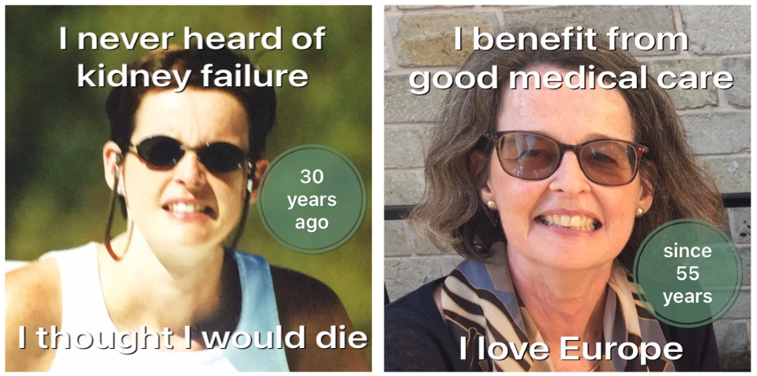 'I had never heard of kidney failure, I thought I would die' Read Marion's story on World Kidney Day
10 March 2022
To mark World Kidney Day, Marion has accepted to share her personal story with EKHA as a kidney transplant patient. Marion was first diagnosed thirty years ago at a time when access to information was scarce. From her dialysis years to the kidney transplant she received and the COVID-19 pandemic, Marion hopes to give policy makers a glimpse of what it means to be a CKD patient in 2022.
Marion's story
'I started not feeling well 30 years ago, in 1992. I was pale, had dark eyes and my hair was fatty. I had just started working as an engineer, following very active student years. I quickly received the diagnosis based on blood pressure, urine and blood tests. The tests showed that my kidneys were already severely damaged (25% kidney function). Already for years, I had been sleeping a lot and had enormous cramps in my legs each night. I did not know the function of the kidneys at the time and there was no Google yet. I had never heard of kidney failure. I thought I would die.
I had a rather normal life after the diagnosis but quickly, new problems arose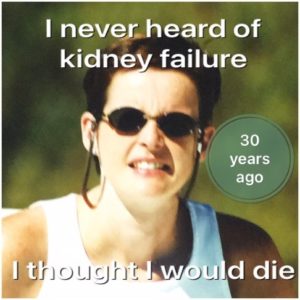 Following the diagnosis, I stopped eating salty food and started to take medication. I would consult the nephrologist 2 or 3 times per year. I had a rather normal life, and a good and fulfilling career. I was very passionate about my work for a European research consortia. I really liked rowing and roller-skating. I would enjoy hiking mountains and discover new cities with friends (and still do!). However, new visible problems rapidly arose: itchy skin, thin cracking nails, chills, flatulence, paleness, fatigue, swollen legs like an elephant, white tongue. I was also advised, based on scientific studies, not to have children. As predicted, after 15 years, my kidney function fell under 15%. I needed Kidney Replacement Therapy. By 2007, I was still working full time but was extremely tired, and would call for perseverance towards my limiting forces. Time moved on and my kidney function fell under 5% by 2009. I was reluctant to involve a living donor, and the two kind hearted offers in my family appeared not to be possible.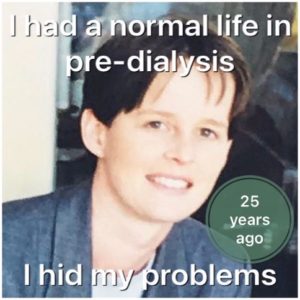 The treatment was painful, despite my good pain tolerance
I started dialysis in 2010. I chose home dialysis to have the highest quality of life but I did not have a good vein for a Hemodialysis (HD) shunt. I got a Peritoneal Dialysis (PD) catheter and started PD at home. However, I started going through many difficulties with PD: the PD fluid – some liters – went to my lungs instead of my belly which led to an infection and subsequent hospitalization. The treatment was painful despite my good pain tolerance (ask my friend, I squeezed her hand). I had surgery for temporary HD catheters – as I had no shunt – in thigh veins (femoral) and in neck veins (jugular). But I was starting to worry, because I had no dialysis options left. In the end, my veins were re-evaluated and I got the HD shunt and switched to center based hemodialysis.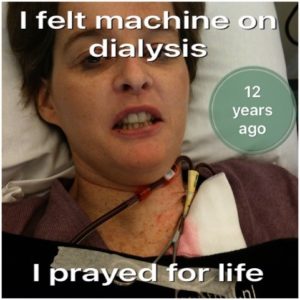 I would have dialysis 156 days per year but it'd still remain unnatural
I would see the smiling care-givers and friendly dialysis mates each second day at the dialysis center, which would comfort me. I was studying (history, sustainable living) during dialysis but life was challenging: I could not drink anything and would have a very strict food diet. I would always need to motivate myself (or being motivated by my husband) to be active despite the intense fatigue. I was working 10 hours a week and my compassionate colleagues would always encourage me. I was so tired that I could hardly come back home. I was feeling like a man-machine experiment on dialysis: each time, two large needles were pricked in my arm to move my blood from my weak body into a big machine for 4 hours. This would happen 156 days per year but it'd still remain unnatural. I was praying for a better solution.
Transplantation is a joyful moment, like a baby being born
I received the gift of a kidney donor in 2011. I was very happy but also confused because I knew that someone had died. My transplant functioned on 11/11/11, a total reset. By then I produced my own urine, after 2 years of not using the toilets for urine. I immediately had new energy, and the drive of going back to normal. I am still vulnerable though, each time learning a new medical discipline. Here is my list, without the most embarrassing: CMV virus received with the organ, Thrombosis, Pulmonary embolism, Hyperactivity, Head Pressure, Serious wounds due to fatigue, Sleep 11/24 hours, Infections, Skin cancer. But the kidney function is good and stable. I have a good discipline for medication, walking, eating healthy food, hygiene, sufficient water, and most importantly, a positive attitude. I was no longer capable of working in my old function, which ended in 2019.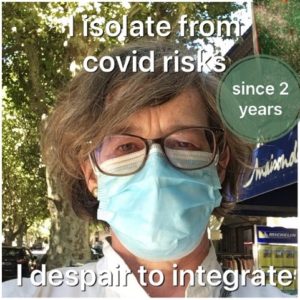 I'm rather positive but after two years of COVID, I wonder how to re-integrate into normal life
And then…COVID happened. I have been self-isolating since March 2020 because of the risk for my health. A French study shows that kidney transplant patients have a 30-fold increased risk to be hospitalized and die of COVID. I live alone in an appartement in the nature and my husband lives and works in Paris. I`m rather positive, because life is calmer and I did things which I always wanted to do. I learned about flora, I am active in kidney patient associations, I live a healthy life (and lost 10 kg), I did a foot/posture training, etc. But after 2 years, I wonder (despair) how I can re-integrate into normal life. I am an exception with my positive attitude but for CKD patients in general it has been and remains a very difficult time. Transplant patients still keep their children home from school as the likely alternative is a dead parent. Transplant persons who need and want to work have low protection possibilities. Not to mention that new transplant are still postponed.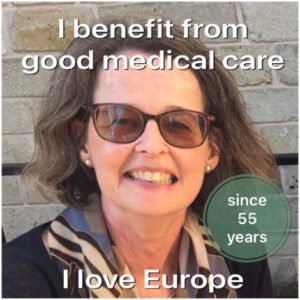 I benefit from good medical care and I am very thankful to Europe
I trust that I will celebrate the 11 years' anniversary of my kidney transplant at the end of this year. My life expectancy is shorter than healthy people. My driver is: 'Enjoy the Mystery Of Life & Evolve the Misery To Survive'. I am both confused and happy that I am still here. Over the past 10 years, 10 close persons of my age died, often very unexpectedly (3 friends, 3 cousins, 4 colleagues who gave me attention for my situation). 3 dialysis mates passed away at respectable ages. I am sharing this to encourage positive attitudes. I want to tell people: 'Look at what you have and what you can do, it is abundant. Manage your own situation, positively without complaining and without leaning on your friends or family, and always with respect'. Despite the challenges, I benefit from good medical care and I am very thankful to Europe.'