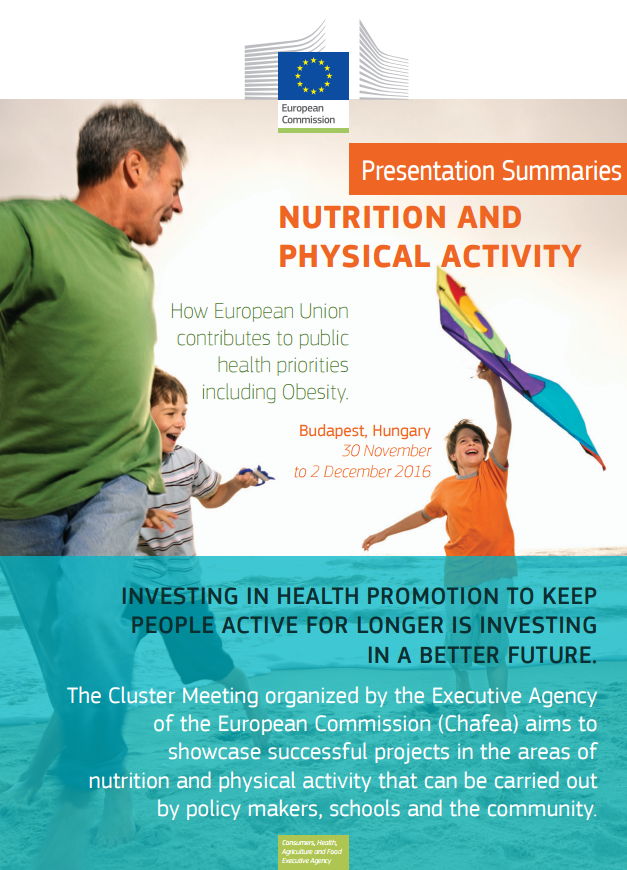 Highlights from the EU conference on nutrition and physical activities
14 December 2016
European Commission Executive Agency CHAFEA organized a conference on nutrition and physical activities focusing on how the EU contributes to public health priorities including obesity between the 30th November and 2nd December in Budapest. The meeting aimed to share the results of the projects co-financed by the European Commission under the 2nd and 3rd Health Programmes, to help exchange best practices, develop recommendations, and improve standardized methods of data collection about nutrition and physical activity promotion.
Issues addressed included breastfeeding and recommended actions by Governments to support its development, the role of media and advertisement (e.g raising awareness of public health in journalism via health reporting training for journalists), physical activity in adolescence, nutrition and recommendations for Member States to improve the diet of the population and thus help fight NCDs, training of public and healthcare professionals to promote best practice in weight management (including organising school events and providing scholarships to healthcare professionals from lower-income EU member states), health promoting schools.
The Hungarian Ministry presented some of the governmental regulatory actions undertaken in the country to prevent diet-related NCDs. These include the introduction of a public health product tax act on non-staple foods, mandatory daily physical activity classes in schools, restriction of trans fatty acids in foods and legislation on healthy public catering.
The event was also the occasion to further discuss the EU Action Plan on Childhood Obesity and the collaboration of its 25 participating countries, as well as the EU Joint Action on Nutrition and Physical Activity JANPA (September 2015-November 2017), which addresses childhood obesity both in a health and economic approach, evaluating the expected cost for social budgets in order to ensure Member States invest in childhood obesity prevention, harmonizing the monitoring of the nutritional value of food available in different countries, in order to set "realistic and ambitious objectives for food reformulation". The results of the Joint Action will be presented during the final conference to be held in Paris in November 2017.
The full conference report is available here.