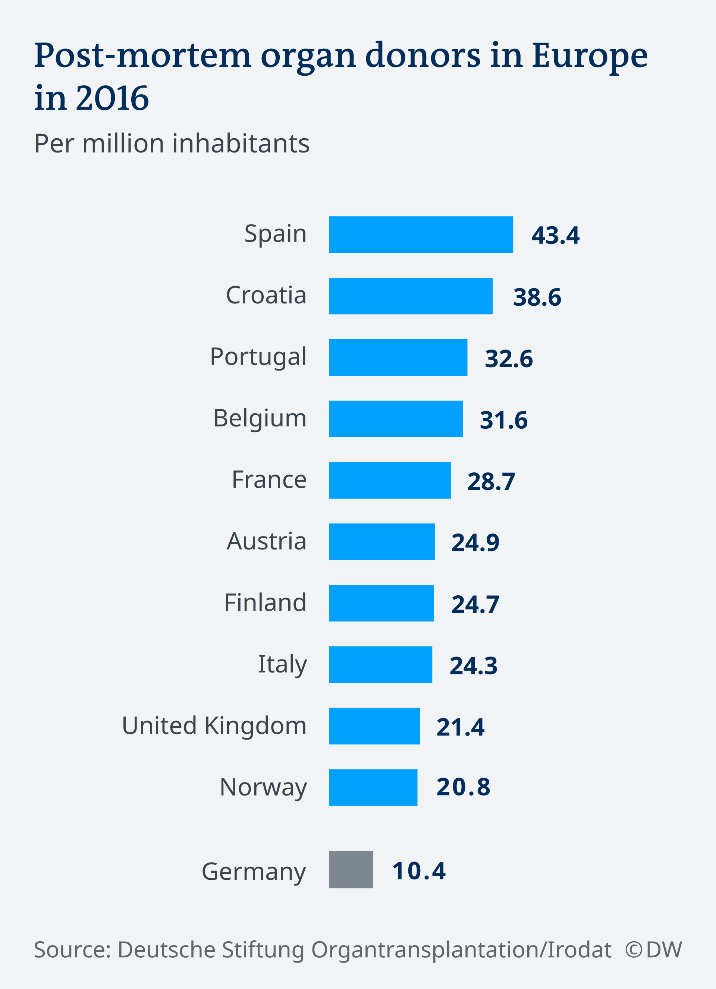 German Health Minister Calls for Opt-out Organ Donation
6 September 2018
The European Kidney Health Alliance (EKHA) supports the statement of German Health Minister Jens Spahn, who Monday said he thinks Germany should adopt an opt-out scheme to increase the number of organs available for transplantation. "I am in favor of a double opt-out solution," Spahn told Bild newspaper. "That's the only way to make organ donation the norm."
He argued that all previous attempts at a political level to increase the declining number of organ donors had "unfortunately been without success."
According to figures from the German Organ Transplantation Foundation, the number of organ donors in Germany reached its lowest-ever level of 797 last year. At the end of August, more than 10,000 people in Germany were waiting for a donor organ.
EKHA chairman Prof Raymond Vanholder said the Alliance would be pleased to see Germany would make this move as it would greatly boost the country's transplant activity, the current low level of which is a matter of concern for all health stakeholders who are working for more sustainable health care, including EKHA. However, there is also a need for other action to put the change into practice, such as education of the general public, patients and the medical community of their role in organ donation and transplantation.
Spain, which has an opt-out system, is the EU country with the highest per capita rate of donors, with 43.4 donors per million inhabitants in 2016. Germany has one of the lowest rates, at 10.4 donors per million inhabitants in 2016.
EKHA has recently launched the  "Gift of Life" campaign – an advocacy initiative to raise awareness on the need for:
– a coordinated approach at EU level as regards kidney donation
– appropriate legal, structural and cultural frameworks in EU member states to boost donation rates and hence reduce the numbers of deaths resulting from kidney failure while waiting for a transplant.
For more information, please see https://ekha.eu/gift-of-life/