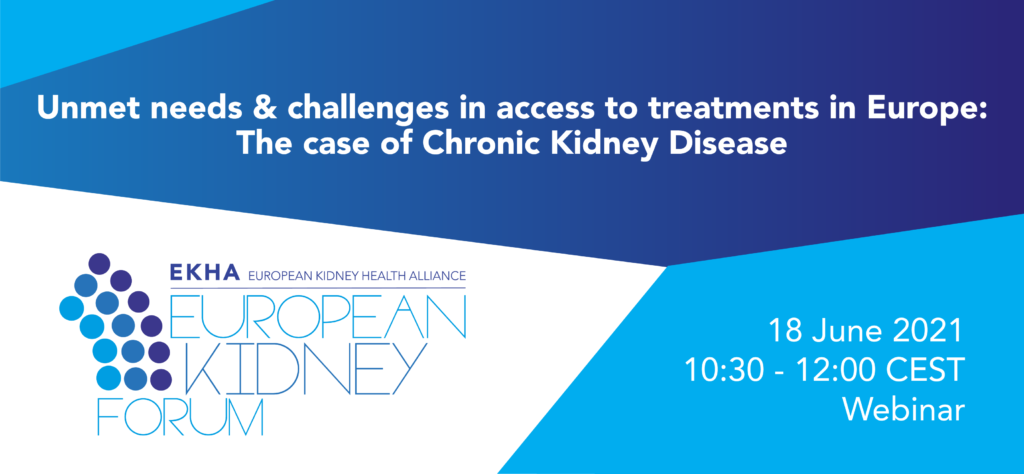 European Kidney Forum 2021's video and report are now available!
21 October 2021
In 2021, the European Kidney Forum (EKF) addressed the topic of 'Unmet needs & challenges in access to treatments in Europe: The case of Chronic Kidney Disease'. The event brought together EU policymakers, academics, patient groups and healthcare professionals to discuss practical and forward-looking policy solutions to enhance the availability and accessibility of all types of Kidney Replacement Therapy (KRT) across Europe. Currently, choosing between the most cost-effective and flexible KRT is not an available option in all Member-States, which can be regarded as a factor of growing inequalities between CKD patients in Europe. The presentations and roundtables discussions provided the audience with a set of recommendations to address this situation and ensure that all kidney patients in Europe have access to the treatment of their choice.
Main recommendations from the 2021 European Kidney Forum:
Improve the access to all treatment modalities for CKD patients through education of both patients and health professional
Encourage policy and financial incentives for cost-effective treatment options
Accelerate innovation in kidney care
Provide patient-centered integrated care
Improve the use of digital health
Apply the lessons learnt from the pandemic on the benefits of home-therapy versus in-center dialysis.
The event recording, event report, and highlights video summarising the main messages shared by speakers during this compelling event are now available online.
This year's Forum was organised as part of the Decade of the Kidney™ campaign, an EKHA-led initiative that aims to put the spotlight on Kidney Disease at EU level for the next ten years.