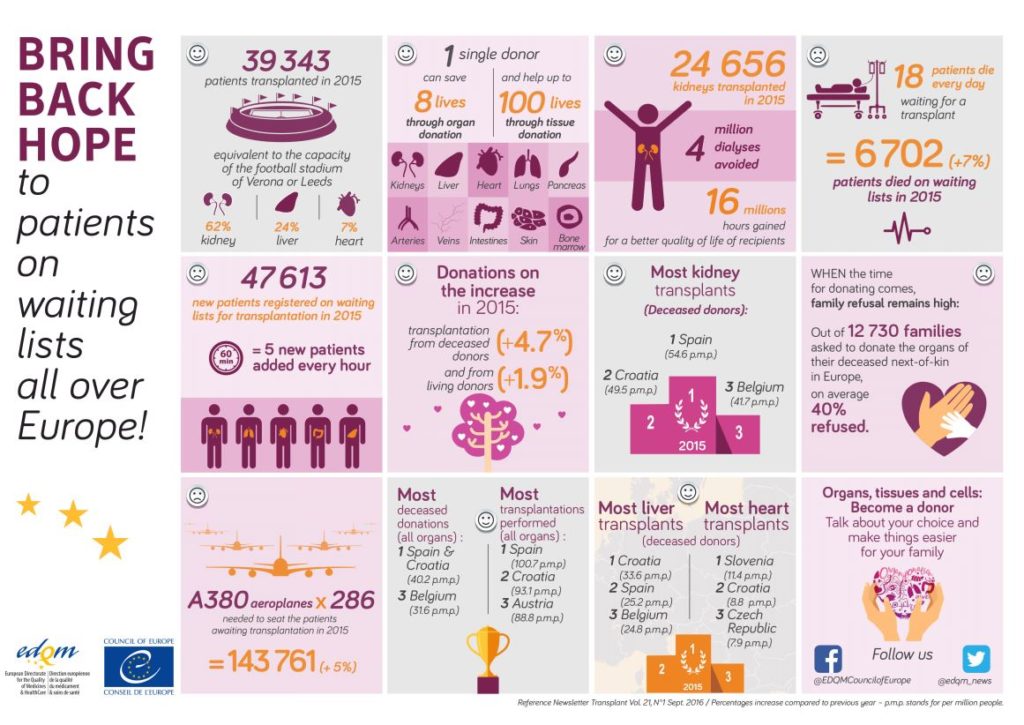 European Day for Organ Donation and Transplantation 2017
8 September 2017
Saturday 9th September marks the European Day for Organ Donation and Transplantation 2017. On this occasion, EKHA wishes to support greater action for increased access to organ transplantation in Europe. Five new patients are added to waiting lists every hour in Europe and while the issue of organ shortage is a key challenge across many European countries, national organ donation schemes are closely linked with the availability of organs intended for transplantation.
Transplantation is a life-saving treatment for many patients in Europe, and kidney transplantation is the treatment of choice for end-stage kidney disease in suitable patients. Transplantation provides better clinical outcomes than dialysis and substantially reduces the healthcare costs of chronic kidney disease by avoiding or delaying dialysis and allowing patients to resume activities, including work. While rates of kidney transplantation are currently greatly varying between EU Member States, increasing organ donation is a critical component of ongoing efforts to increase kidney transplantation in Member States. 
EKHA recommendations for sustainable kidney care cluster n°3 focuses on the need for increasing access to transplantation in Europe: more information here.
More information on the European Day for Organ Donation and Transplantation here.