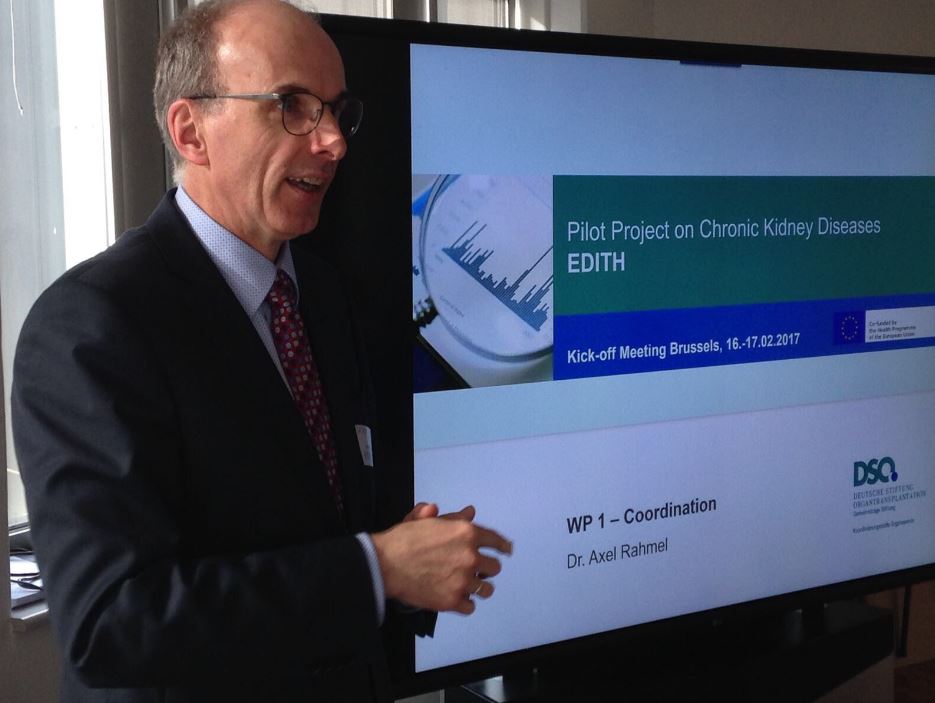 EU-funded EDITH Pilot Project on chronic kidney diseases kicks off
20 February 2017
The Pilot Project "the Effect of Differing Kidney Disease Treatment Modalities and Organ Donation and Transplantation Practices on Health Expenditure and Patient Outcomes" (EDITH) kicked off on the 16-17th of February in Brussels.
EDITH will assess the different treatment modalities for chronic kidney diseases currently used in the EU and the factors influencing the treatment choices by patients and doctors. It aims to further develop and establish registries to follow-up living donors as well as transplant recipients, to gather information to increase the quality and safety of living donors and all transplant recipients.
The overarching objective is to lay grounds for providing equal access to good quality health care throughout Europe, for which "the alignment of treatment modalities as well as the access to transplantation" is seen as an essential precondition.
The project will run over three years until the 31st of December 2019 and will be structured around 6 Work Packages (WPs):
• WP 1 Coordination
• WP 2 Dissemination
• WP 3 Evaluation
• WP 4 Assessment of different treatment modalities for CKD
• WP 5 Establishment of registries to follow-up living donors
• WP 6 Establishment of follow-up registers for transplant recipients
The European Renal Association – European Dialysis and Transplant Association (ERA-EDTA) will lead WP 4 in partnership with the Italian National Transplant Service (CNT).
EKHA is a collaborating stakeholder to the project so as the European Kidney Patients' Federation (EKPF).
(Picture from the ERA-EDTA Registry)