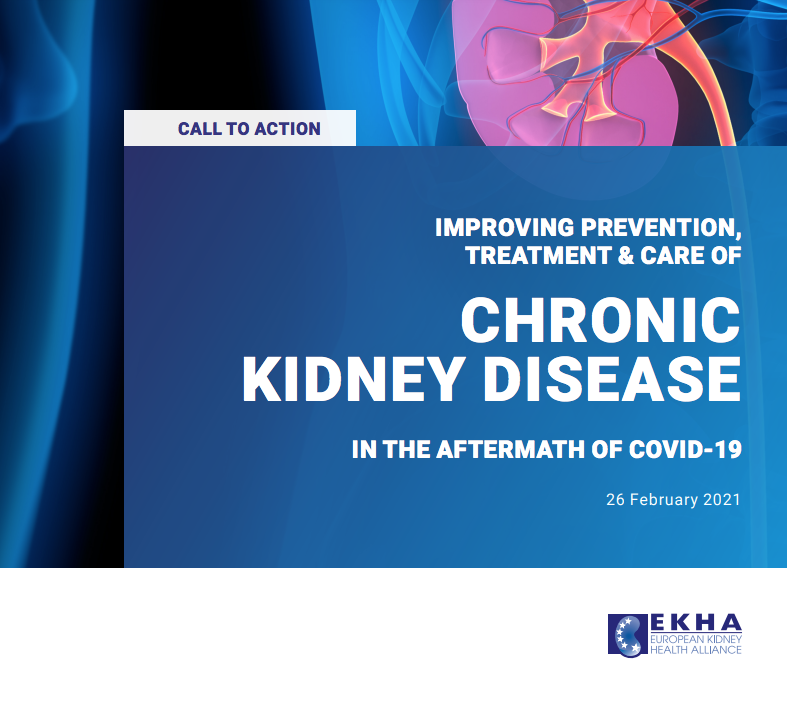 EKHA launches a call to action to improve CKD prevention, treatment and care in the aftermath of COVID-19
26 February 2021
Today, on 26th February 2021, EKHA launched a call to action calling on EU leaders to improve CKD prevention, treatment and care in the aftermath of COVID-19. This call to action, which has been endorsed by 89 stakeholders, urges policy makers to include four key recommendations in future EU policies and initiatives to address the long-term challenges surrounding CKD in Europe:
Augment efforts on CKD prevention;
Collect and share data on CKD at EU level;
Promote home therapies, transplantation and the uptake of digital tools;
Make research and innovation in Kidney Replacement Therapy an EU priority.
75 million people suffer from CKD in the EU, and projections estimate that CKD will be the 5th leading cause of death worldwide by 2040. Hence, it is expected that CKD will be one of the greatest public health challenges in the next decades.
COVID-19 further emphasized the vulnerability of CKD patients. Studies found that they have a higher mortality risk and are among the patient groups most impacted by medicines shortages and treatment interruptions. Hence, the pandemic has showed the importance of addressing shortcomings in CKD prevention, treatment and care. It is now essential that these are addressed at the political level to limit avoidable deaths in current and future health emergencies.
Read the call to action here.