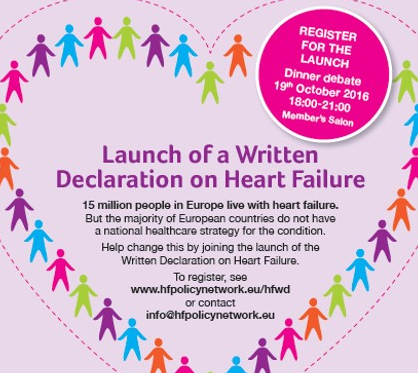 EKHA expresses support to the European Parliament written declaration on heart failure
21 October 2016
Prof. Vanholder and the EKHA Secretariat participated in the event "15 million hearts, 15 million lives" on the 19th of October in the European Parliament. Hosted by Mrs Annie Schreijer-Pierik – member of the MEP group for kidney health – the event marked the launch of a European Parliament written declaration on heart failure. Heart Failure represents a significant burden for kidney patients, as major studies have shown the very close links between both organs. The prevalence of heart failure increases greatly as a patient's renal function deteriorates and is even higher at end-stage renal disease. Similarly, heart failure is a major cause of chronic kidney disease since it is often correlated with a gradual and rapid decline in renal function. In addition, as for all major chronic conditions, heart failure and chronic kidney disease share similar risk factors such as high or excessive salt intake, hypertension, obesity or overweight; which can be addressed through a common preventive approach.
The event was the occasion to hear about the findings of a state of play report in the diagnosis of heart failure, discuss the revised 2016 guidelines on heart failure developed by the European Society of Cardiology, as well as discuss next steps in the response to heart failure. Mrs Ingrid Keller from the European Commission DG SANTE provided an overview of the EU approach in preventing and managing chronic diseases, and gave insights on the way forward. This includes activities in the scope of the European semester process, the EU health policy platform to foment dialogue between policy makers and interested EU stakeholders, or the upcoming start of the CHRODIS + Joint action, strengthening the efforts and outcomes achieved under the current Joint Action CHRODIS which ends at the end of the year.
Contributing to the event, MEP Karin Kadenbach – co-chair of the MEP heart Group and Chair of the MEP Group for Kidney health- noted "We can do more: Article 168 says the health of European citizens is a shared responsibly …therefore it is a shared competence".