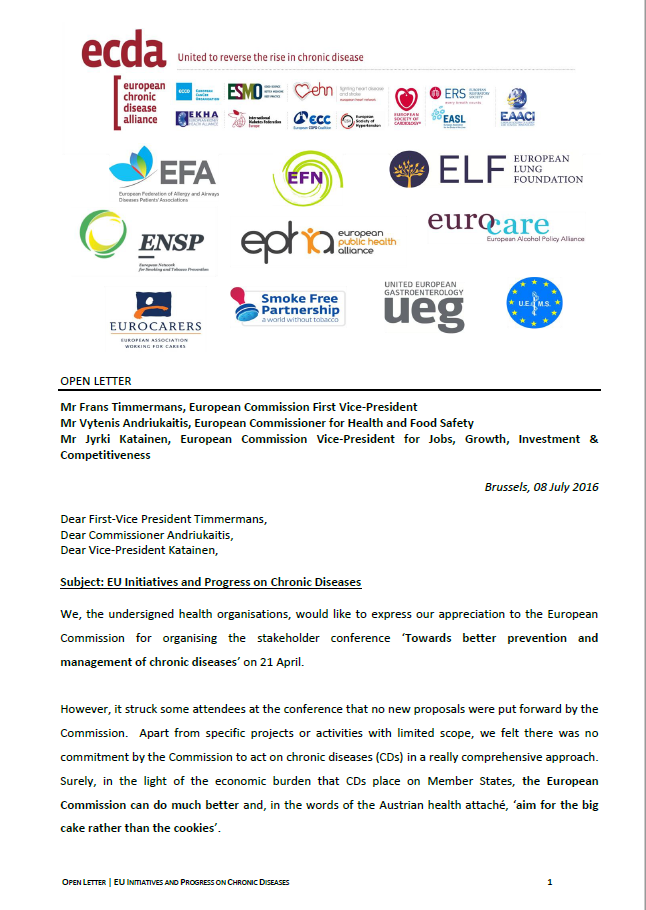 EKHA endorses joint open letter to EU Commission on chronic diseases
12 July 2016
Eleven European health advocacy organisations sent at the beginning of the week a joint open letter to EU Commission Vice-President Timmermans, EU Health Commissioner Andriukaitis, and EU Commissioner for Jobs, Growth, Investment and Competitiveness Katainen, calling on the European Commission to take concrete and imminent action on chronic diseases.
An initiative of the European Chronic Disease Alliance of which EKHA is a member, the letter especially deplores the Commission's lack of political engagement on chronic diseases and the absence of concrete action to establish a comprehensive framework integrating and enhancing the existing initiatives. It further notes that the Commission has shown little awareness of countries' responsibility to meet the health targets defined in the UN Sustainable Development Goals; and has failed to recognise the importance of applying the principle 'health in all policies' – fundamental to make progress in preventing chronic diseases – in the conclusions of the EU stakeholder conference 'Towards better prevention and management of chronic diseases' held on the 21st of April.
The letter urges decision-makers to respond to the many concrete calls put forward by all stakeholders, thus to effectively address the issue by implementing an EU alcohol strategy, banning industrial trans-fatty acids, adopting WHO air quality guidelines and developing salt reduction programmes.
The initiative has already received media coverage in the EU press, including by the prominent EU newspaper Politico.
Read Politico's article "Advocates slam Commission over chronic diseases inaction".
The full letter sent to the EU Commission is available here: Open letter to the European Commission – EU Initiatives and Progress on Chronic Diseases