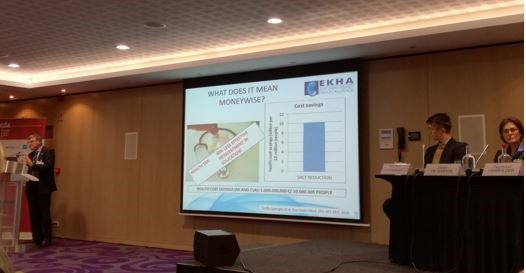 EKHA Chairman discusses how to address common risks factors for chronic diseases during a policy event in Brussels
9 January 2017
The European Chronic Diseases Alliance, which EKHA is a member of, co-organized the conference "the European Response to Chronic Diseases – the Role of Civil Society" on the 12nd and 13th of December in Brussels, in partnership with the NCD Alliance and co-sponsored by the World Health Organization Regional Office for Europe.
The conference was the occasion to hear more about the EU response to non-communicable diseases from Mrs Ingrid Keller, Policy Officer in charge of chronic diseases at the European Commission. It was also the occasion to exchange views between all relevant stakeholders, from representatives of WHO Europe to policy makers including Portuguese Member of Parliament Dr Ricardo Baptista, health advocates in the field of chronic diseases, healthcare professionals and patients.
During the meeting, EKHA Chairman Professor Vanholder gave insights on salt restriction as an example of action at policy level to improve general health and prevent chronic diseases. Outlining the importance of education, he emphasized the need for greater health literacy and awareness, and for simplifying food labelling to ensure healthy food choices. Prof Vanholder especially called for joint multi-stakeholder work and collaborative efforts to develop a solution to drive health outcomes.
More information on the conference is available here.