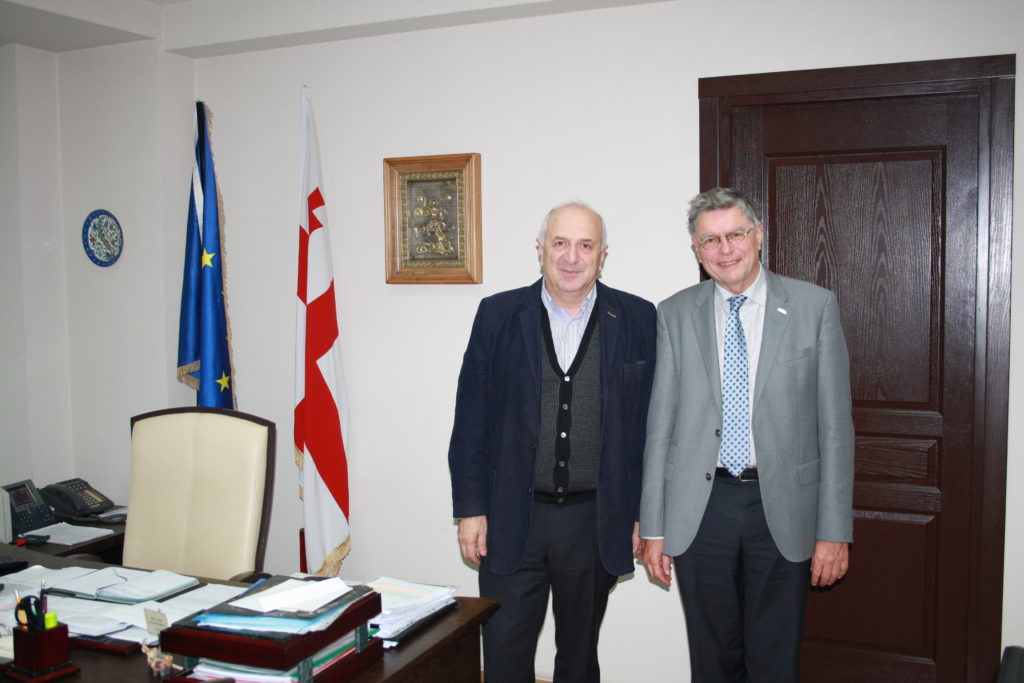 EKHA Chair joins national society visiti to Georgian Ministry of Labor, Health and Social Affairs
29 October 2015
EKHA has recently develo
ped European Recommendations for sustainable Kidney Care.
Specific aspects of these recommendations were at the centre of the discussion between the Dialysis, Nephrology and Transplantation Union of Georgia and Deputy Health Minister Kvaratskhelia at the Minis
try of Health in Georgia. 
Georgia currently faces important healthcare problems related to kidney disease, while one of their major preoccupations is to intervene in these issues according to accepted International/European standards.The fast growth in number of end-stage kidney disease patients is a key issue. EKHA Chairman Prof Raymond Vanholder took the opportunity of a visit to Georgia to join this meeting. Topics from the recommendations which they discussed with the Deputy Health Minister included: 
Prevention (

control and appropriate treatment of diabetes and hypertension);

Education (not only nephrologists but also for lay public, nurses and primary care physicians);

Life style measures (

combat obesity, smoking, lack of exercise, high salt and phosphate diet);

Early detection, 

registration, 

conservative care in case of comorbidities and 

transplantation (activation of both living and deceased donation programs, opting out for deceased donation);
Regarding current obstacles in Georgia, both addressed the necessity to educate the public and encourage lifestyle measures via social channels besides the health linked channels, in order to reach further than the interested public. Data collection should focus on end-stage renal disease as well as on earlier stages. Among end-stage patients, data collections should
focus not only on the mere fact of becoming end-stage but also on comorbidities and adverse events. C
ultural such as diatery habits (high salt intake), and political and religious issues which influence the rates of organ donors and therefore transplantation access, (such as the acceptance of brain death as the definition of death, will have to be dealt with as well if transplantation is to become more frequent). 
The current national dialysis program, which was started in 1996, serves more than 2000 patiens, which corresponds to a good ration of 0.5/1000. This result is due to better detection but also to increased risk due to epidemologic reasons such as diabetes, hypertension, high salt and phosphorus intake, a lack of exercise,
and/or to the take on of patients with too many comorbidities. Deputy Minister 
Kvaratskhelia emphasized that the Ministry would focus on primary health care as part of their efforts for prevention of kidney disease and its comorbidities.  
The Dialysis, Nephrology and Kidney Transplantation Union of Georgia is one of the national nephrologic societies which are Associate Member of EKHA.