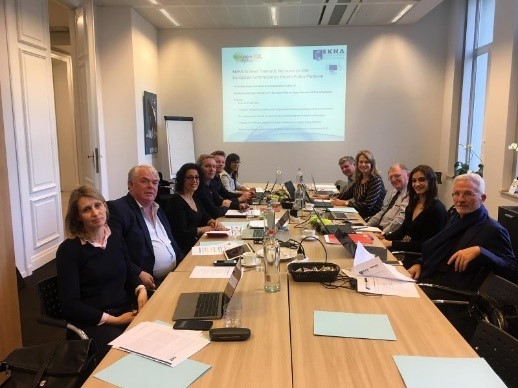 2019 – New Year, New Opportunities
28 February 2019
2019 presents exciting new opportunities. In late January, the EKHA Management Committee came together to prepare EHA's initiatives for the upcoming year.
In compliment to this year's focus on Organ Donation and Transplantation (cluster 3 of our Recommendations for Sustainable Kidney Care), EKHA is leading a Thematic Network on Organ Donation and Transplantation as part of the EU Health Policy Platform.
The Platform is the communication link between the Commission and health stakeholders via an interactive tool designed to enable targeted discussions around key public health priorities, as determined by votes for proposed Thematic Networks. Given the multitude of health priorities vying for visibility at EU level, it is no small achievement that EKHA's theme, organ donation and transplantation, was selected as one of the top 3 topics for a Thematic Network. EKHA's leadership of the Network puts it in the driving seat for shaping future policy for organ donation and transplantation in Europe and we look forward to creating and nurturing a network of stakeholders to help us deliver on our ambitions.
As acting secretariat of the EU Health Policy Platform, DG SANTE plays a key role in moderating and coordinating the Commission's input and participation. The output of the Network will be a Joint Statement highlighting challenges and good practices in organ donation and transplantation across Europe, with a view to raising standards and rates of transplantation in all EU Member States. Recommendations are set to include transplant coordination training in health services, which can help member states improve the availability of organs and health system efficiency, as well as actions aimed at increasing public support, awareness and trust around organ donation and transplantation. The profile of the network will also bolster the work of EDITH and EUDONORGAN.
Building on this theme, this year's European Kidney Forum, will bring together stakeholders with an interest in organ donation and transplantation to discuss shared aims for the Joint Statement. We aim to attract a broad audience with participants from various organ groups as well as key opinion leaders and policymakers.
The road ahead holds much promise in advancing EKHA's impact. We look forward to sharing with members, the knowledge gained through this experience, while facilitating good practice exchanges with other like-minded partners to pool our expertise into a Joint Statement for the incoming Commission.