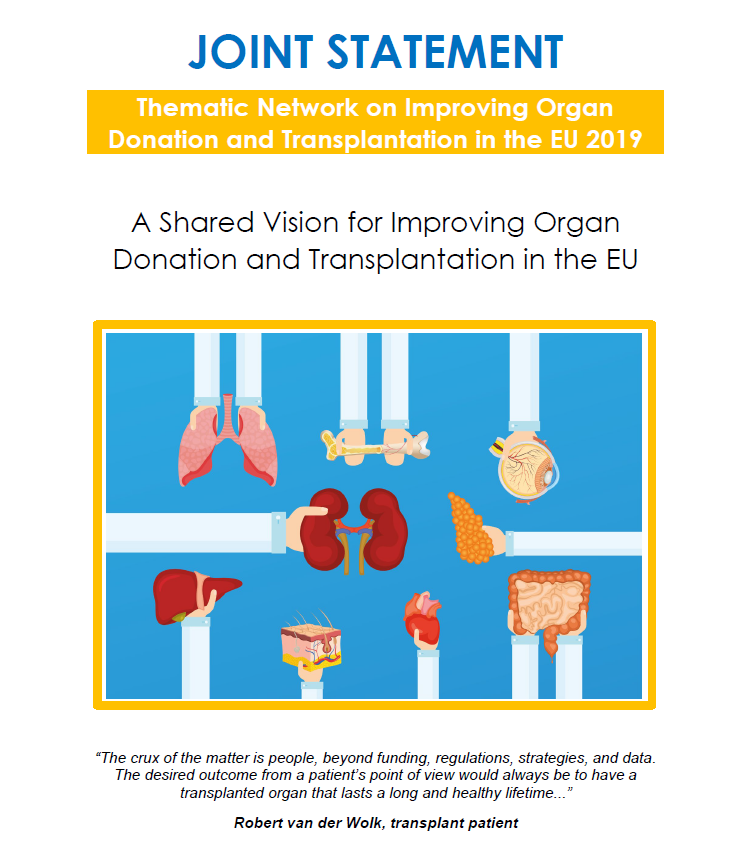 An updated final version of the Joint Statement of the Thematic Network on Improving Organ Donation and Transplantation in the EU is now available for download.
The Joint Statement entitled A Shared Vision for Improving Organ Donation and Transplantation in the EU is the main output of the EKHA-led 2019 Thematic Network, developed in conjunction with National Competent Authorities, transplant organisations, medical professionals and patient associations, and endorsed by co-signing organisations and Members of the European Parliament (MEPs). The stakeholder-led tool offers a unique opportunity to shape future policy on organ donation and transplantation in Europe, as it comprises actionable policy calls and recommendations to drive efforts at EU, Member State, and stakeholder level.
The updated version submitted to the European Commission comprises the logos and names of all endorsers, including the National Competent Authorities on Organ Donation and Transplantation of Belgium, Czech Republic, Hungary, Lithuania, Portugal and Spain; 19 members of the MEP Group for Kidney Health, and 48 organisations representing the stakeholders of the organ donation and transplantation community.  
You can watch the presentation of the Joint Statement to the European Commission at the annual Health Policy Platform meeting in Brussels, on 17 October 2019.