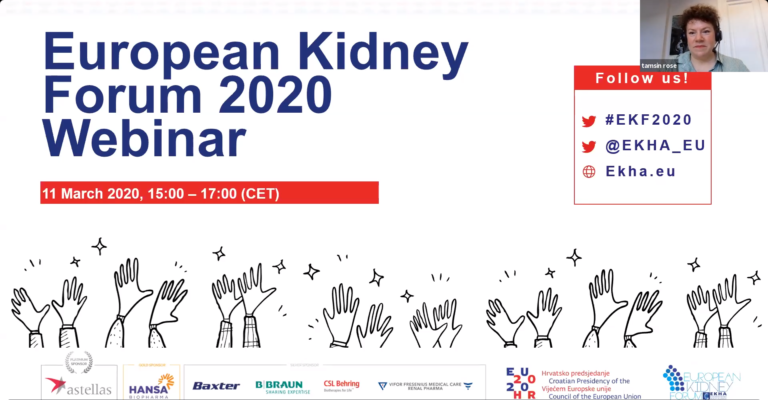 On the eve of World Kidney Day, 11 March, EKHA organised the 2020 edition of its annual European Kidney Forum, entitled 'A Shared Vision for Improving Organ Donation & Transplantation in the EU Beyond 2020″. 
The Forum was organised in the form of a webinar for the first time, due to the last-minute cancellation of the meeting planned to take place in the European Parliament in Brussels on 3 March 2020. The decision to limit access to Parliament premises was taken by the Presidency of the Parliament as a precautionary measure to counter the COVID-19 outbreak.
Despite the unfortunate circumstances, the webinar has been immensely successful, thanks to the strong support of the 2020 European Kidney Forum speakers and attendees; MEP Group for Kidney Health Chair MEP Hilde Vautmans; the Croatian Presidency of the Council of the EU, and industry sponsors.
The online meeting allowed for an enhanced audience of 86 participants from all over the world, gathering a wide variety of stakeholders, including policymakers from the European Parliament and the European Commission, representatives of national competent authorities for organ donation and transplantation, physicians, patients and patient advocates, and industry representatives. 
Following the opening remarks by MEP Hilde Vautmans and EKHA President Prof. Raymond Vanholder, webinar attendees had a chance to hear from and interact with panelists, Fiona Loud from Kidney Care UK,  Dr Mirela Bušić from the Ministry of Health of Croatia, Dr Beatriz Domínguez-Gil from the National Transplant Organisation (ONT) of Spain, Daniel Gallego from the Eruopean Kidney Patients' Federation (EKPF), Dr Gabriel Oniscu from the European Society for Organ Transplantation (ESOT) and Ingrida Pucinskaite from the European Commission's DG SANTE Substances of Human Origin (SoHO) Unit.  The panel discussion focused on tackling the current challenges and barriers in organ donation and transplantation in Europe, and explored the topics of education and training, optimising the organisation of programmes at national and EU level, health economic aspects, data registration and societal challenges.  
The panelists called for a second EU Action Plan on Organ Donation and Transplantation building on the success of the 2009-2015 Action Plan and focusing on implementation at the national level.
You can watch the recording of the webinar here:
Also available from the event: a EURACTIV event report, featuring an interview with Dr Mirela Bušić and an op-ed by Prof. Raymond Vanholder. 
EKHA is grateful to the organ donation and transplantation community for making the 2020 European Kidney Forum a success, and thankful to the following sponsors for their generous support:

File Edit View Insert Format Tools Table Paragraph