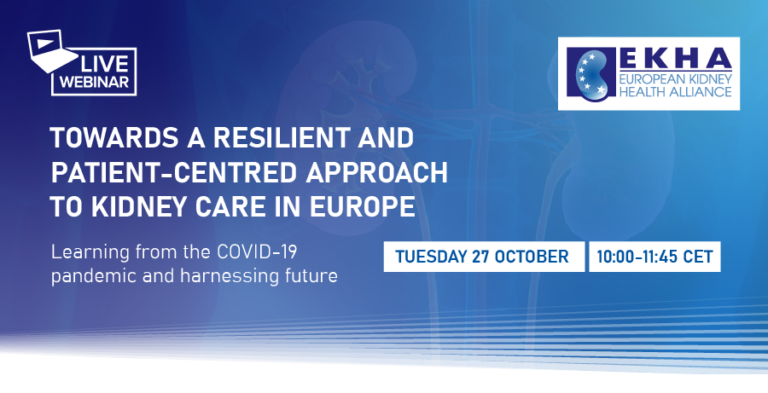 EKHA is pleased to announce its upcoming webinar: "Towards a resilient and patient centered approach to kidney care in Europe – "Learning from the COVID-19 pandemic and harnessing future preparedness" taking place on Tuesday 27 October from 10:00 to 11:45.
As Europe's healthcare systems face unprecedented challenges against the backdrop of COVID-19, our webinar aims to explore sustainable and cost-effective solutions to improve prevention, treatment and care of Chronic Kidney Disease (CKD) whilst raising awareness of the substantial burden experienced by CKD patients as a result of the outbreak.
The event will bring together EU policy makers, health professionals, academics & patients to highlight and discuss the following themes:
The heavy toll taken by CKD patients as a result of the outbreak and the link between COVID-19 and kidney failure,
The potential of home-therapies & digitalization for kidney care,
The importance of harmonizing and sharing health data at EU level,
The necessity to reduce the CKD burden and improve COVID-19 outcomes through prevention strategies & adequate funding for innovative Renal Replacement Therapies.
The discussions of the webinar will form the basis for a multi-stakeholder call to action on kidney health that will be published in November, as a follow-up of the EKHA open letter to EU policy-makers on CKD prevention, treatment and care in the aftermath of COVID-19.
This webinar is organised with the support of